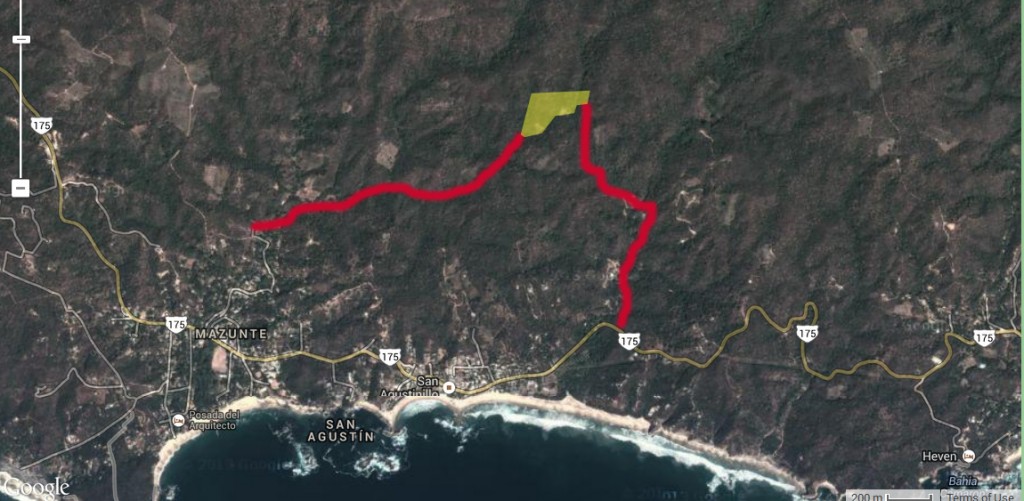 The land is located a 30 minute walk from Mazunte in the state of Oaxaca, Mexico. There are signs "Inlak'ech" along the way, but we are always happy to meet you in town to show you the way out to the land.
Arriving by Air
There are two international airports both equidistant from Mazunte so it just comes down to where you can find the cheaper flights.  Both airports are about 1 hour away.  The airports are Huatulco (HUX) to the south and Puerto Escondido (PXM) to the north.
From Puerto Escondido Airport
From the airport you can take a cab or private shuttle the whole way to Maunte, but expect to pay around US$70 or more per car. You can walk out of the airport to the main highway (takes about 3 minutes) and take a cab from there for significantly less, US$20-$30. There are usually a few cabs waiting, if not you can wait for a few minutes and one will show up.
The cheapest method is to walk out of the airport to the main highway and take a short bus to Pochutla for around $35 pesos (US$2.20). Durring the day these run about every 30 minutes. Exit the bus in Pochutla (this will be the first traffic light you get to, and is a big crossroads). This takes around 45 minutes or so. At the crossroads there are always lots of taxis;  Or, you can take one to Mazunte for 70 to 100 pesos (US$6-$8) decide on the price with the driver before you get in.  Or you can ask someone which corner to wait on for a "collectivo", a pickup truck with a canopy that goes to Mazunte.
From Huatulco Airport
The same thing applies as with Huatulco Airport; take a cab from directly outside the airport to save considerably.  Cheaper is to take a shuttle from the airport to "lineas Delphines", the short buses that leave from the corner of the big intersection at the highway and Avenida Oaxaca.  The driver of the shuttle will drop you off there.  Take any of the short buses to San Antonio, about 50 minutes.  "Las Cruces de San Antonio" is at the gas station and an OXXO, a convenience store.There you can take a taxi (decide on a price with the driver before getting in) or take a "collectivo".  You can also take a bus — walk out of the airport to the road, cross the street, and take a collectivo (10 pesos or less) into town. From there you can catch a bus from near the SuperChe supermarket (40 pesos). Ask the driver to drop you off at  From here you can take a taxi or collectivo for 5 pesos into Mazunte or San Agustinillo.
Arriving by Bus
From anywhere in Mexico you can take a bus to Pochutla. From Pochutla, take a cab to Mazunte.